How do I invoice for my Time & Materials project?
Time & Materials projects can be invoiced for separate from Fixed Fee projects or pulled onto an invoice that also includes Fixed Fee projects. You can also create recurring invoice templates for Time & Materials projects.
To create a single invoice based on tracked time and expenses:
Go to Invoices > Overview.
Click New invoice and choose your client.
Select the option to Create an invoice for tracked time, expenses, or fixed fees, then click Choose projects.

After selecting the relevant project(s) and the date range of hours you need to include, you'll choose How to display hours on your invoice. If the display option doesn't match the billable rate type of your project, we'll calculate an effective billable rate to use as the unit price for each line item. Alternatively, you can choose the Detailed option to display one line item per time entry.
Billable rate on project:

Matching hours display on invoice:

Only time entries that were tracked to billable tasks will be pulled into your invoice. You can manage whether your tasks are billable on the project's settings page. Only billable expenses can be included as well. When you've chosen the hours and expenses you want to include and how to display them, click Review invoice.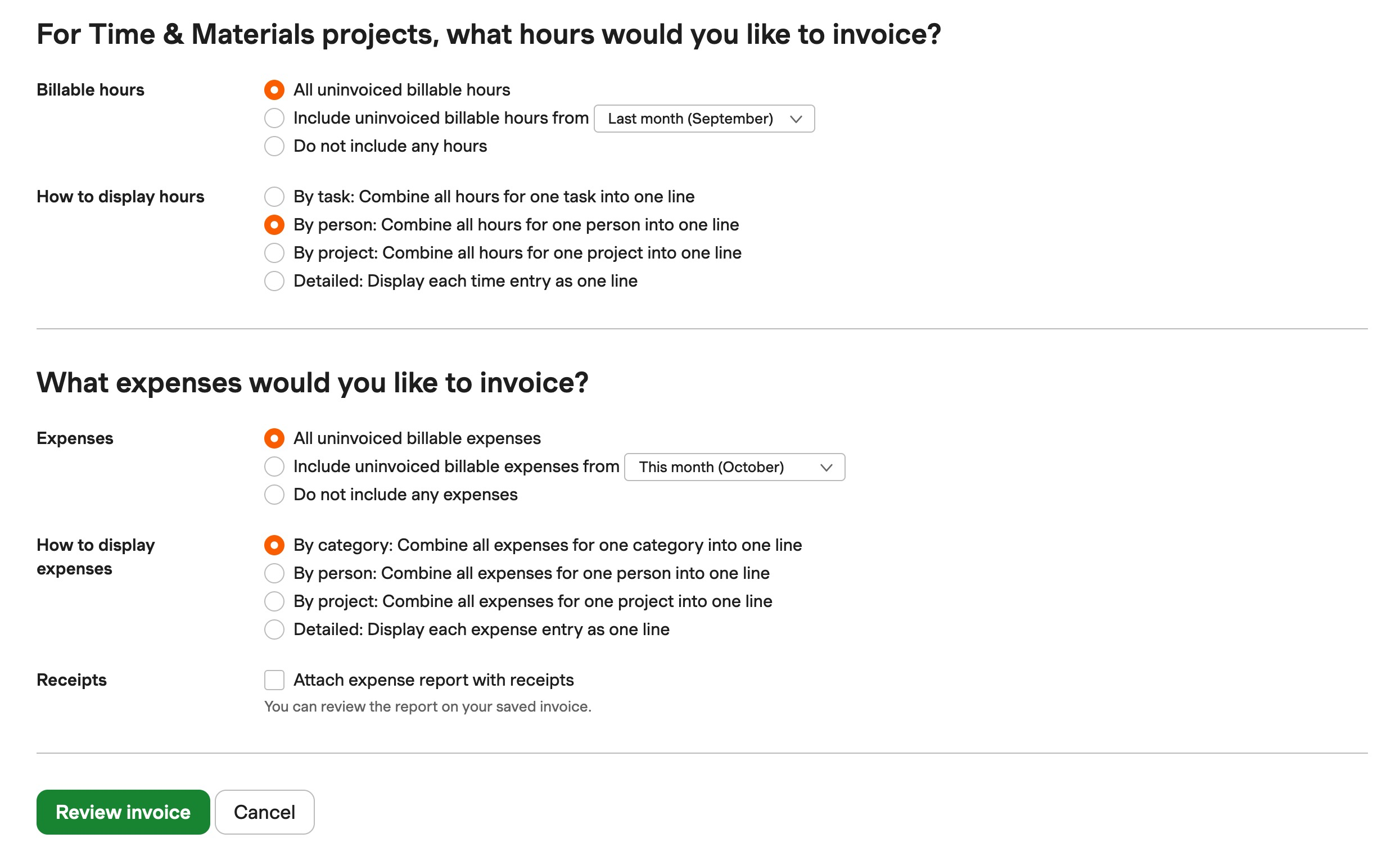 Rates must be entered on your project in order to calculate your billable amount. Your rates will show up in the unit price column on your invoice.
Billable rates on project:

Billable rates on invoice:

You can edit any of the line items that were pulled into your invoice or reorder the rows. You can also add line items. Note that editing and adding line items won't affect the uninvoiced amount for your Time & Materials projects. More information can be found in our article about how editing an invoice based on tracked time and expenses affects your data.
When everything looks good, click Save invoice. You can send the invoice to your client right away, or keep it as a draft and send it later.