PayPal Payments Standard
You can integrate your PayPal business account with Harvest and choose the PayPal Payments Standard option so your clients can pay you online via the Web Invoice.
Once the integration is set up, whenever you send an invoice the option to pay via PayPal will be enabled in the Online payment section. You can uncheck the PayPal box if you don't want your client to pay a particular invoice by PayPal.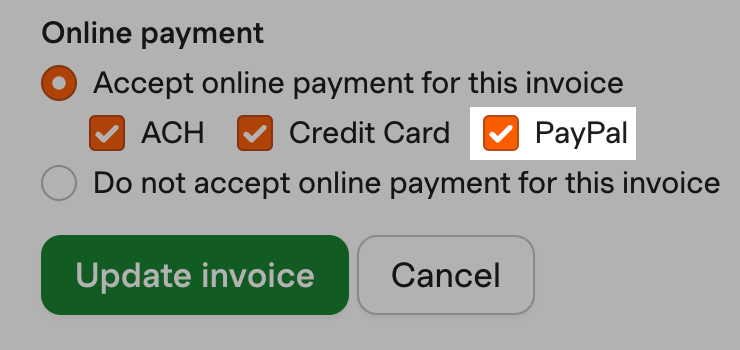 When your client views the Web Invoice by clicking the link in the invoice email, they'll see a button at the top right that they can use to pay. To see what this looks like for them, you can click into any invoice and then click the Web Invoice button.
Integrating with Harvest
Activating
Go to Settings > Integrations > Online payment and click Activate PayPal.
Enter your PayPal email, select PayPal Standard, and click Save PayPal settings.
Deactivating
You can disable payments via PayPal Payments Standard if you're no longer using the service.
Go to Settings > Integrations > Online payment.
Click the Deactivate PayPal link at the bottom of the page and confirm that you want to Deactivate PayPal.
Personal vs. business account
If you plan on using PayPal Payments Standard for business transactions, you should sign up for a business account. There's no sign-up fee for either personal or business Payments Standard accounts. Fees are applied to your transactions.
To sign up for PayPal Payments Standard:
Go to the PayPal website and click the Sign up link at the top of the page.
Choose to sign up for a Personal Account or a Business Account and click Continue.
For a personal account: Fill out the sign-up form. For a business account: Click the Select Standard button and complete the following steps.
Transaction limits
There are limits on the amount you can send in a single payment with PayPal, and they depend on whether you have a verified or an unverified account. With a verified account, you can send up to $10,000 in a single transaction. With an unverified account, your limit will vary. To view the sending limit for your account:
Sign in to your PayPal account.
Under the

More about your account

heading at the bottom left of your account overview, click the

See how much you can send with PayPal

link.
If your invoice in Harvest exceeds the limit of what your client can pay, they'll see an error message that states "The invoice amount exceeds PayPal transaction limits."
For more information about transaction limits, please visit the PayPal help center.