Attaching files and reports to invoices
This article is for Administrators and some Managers. Learn more about
permissions
. If you're a Member, check out our
Member resources
.
Attaching files or a detailed expense report to an invoice
You can attach files—such as a detailed time report, design drafts, or additional project information—to an invoice before sending it to your client. You can also attach a detailed expense report, which will contain receipt images entered with your expenses.
Attaching files
Once you've initially saved your invoice, the draft version will have a button to Attach file at the bottom, below the line items and (if applicable) invoice notes. Click the button to Attach file:

When you send an invoice with a file attached, your client will see a link to download the attachment in the invoice email message. If you send your client a link to view the web invoice in Harvest, they'll see the link there, too. Here's what it looks like in an invoice email: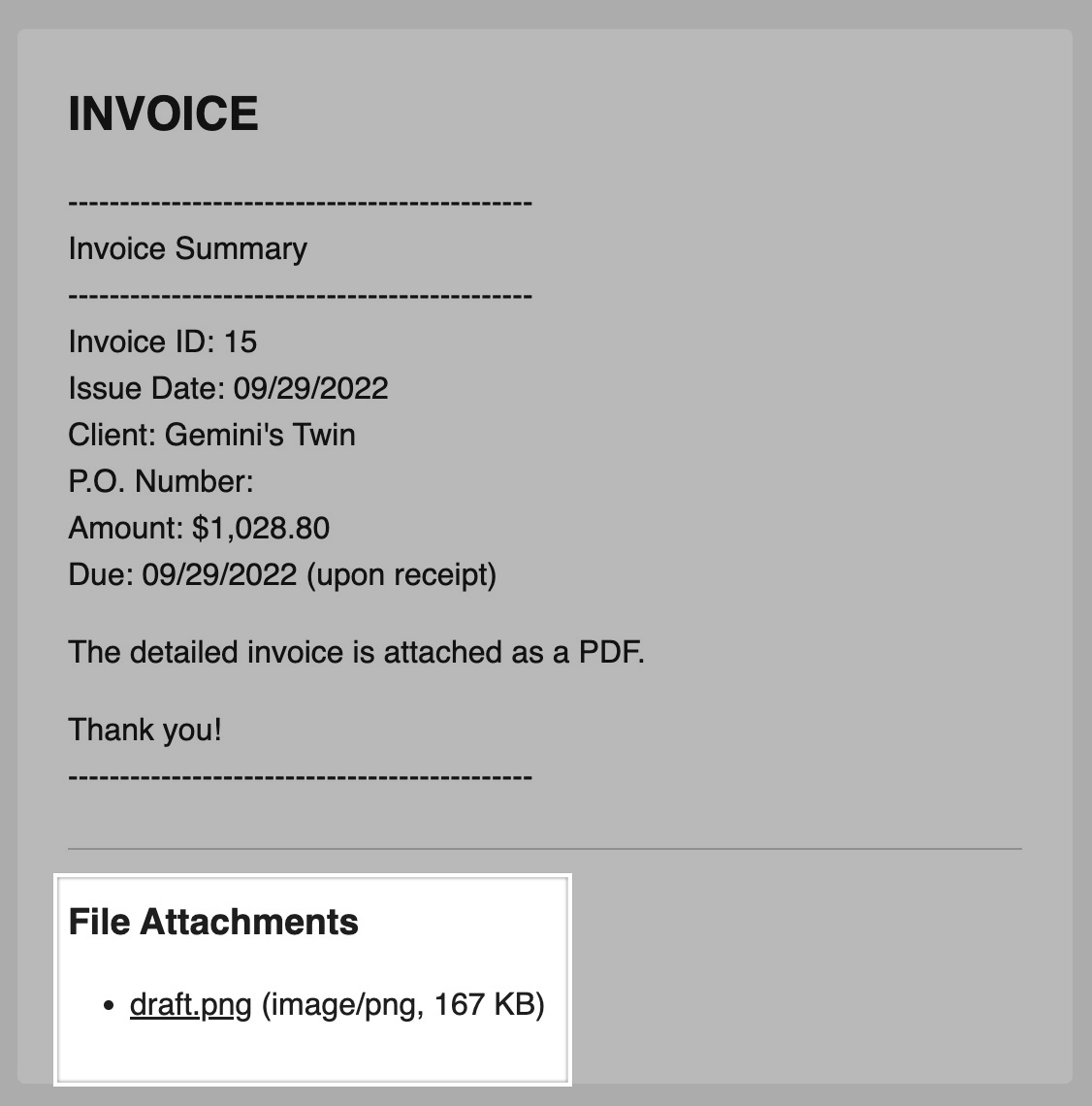 Attaching a detailed expense report
You can attach an expense report at two different stages of invoicing:
When first creating your invoice after selecting which expenses to include
After saving a draft invoice
Keep in mind, you'll only have the option to attach an expense report if you've included expenses on your invoice.
Your expense report isn't added to your invoice until the invoice is saved—that means if you attach the report during creation and then delete a line item before saving, the report will correctly have that expense entry removed, as well.
If you prefer, you can attach your expense report after saving your draft. You'll find a button to Attach expense report at the bottom of the draft invoice, below the line items and (if applicable) invoice notes. Click the button to generate and attach the expense report:

If you edit a draft invoice with an attached expense report, a new version that matches the current state of your invoice will be add automatically when you save.